Foreword
10 years ahead Innovation Company.
From the end of the 20th century to the 21st century, the advancement in the IT industry has dramatically changed people's lifestyles.
Represented by the US IT company (GAFA) and Chinese IT company (BATH), IT companies have dominated the global market from business seeds to startups, from 1G to 2G era and from 3G to 4G era.
As we enter the 5G era, the domestic and global market demands are shifting from "ultra-high speed" and "large capacity" to "low latency" and "simultaneous multiple connections".
SGST Co., LTD has been devoted to product and service development everyday, contributing to the future society with its Ai and IoT as well as aiming at innovation 10 years from now.
We aim to enrich people's lives in the fields of daily life and entertainment.
With "10 years ahead Innovation" as our mission, we will always ponder on how to contribute to the future and all our group members will continute to make contribution and face the challenge.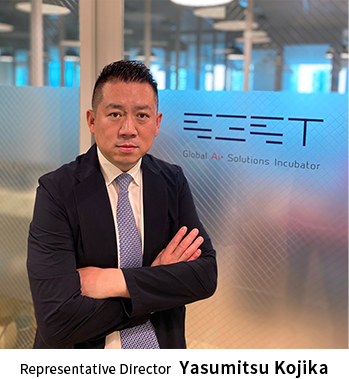 Company Profile
Company Name
SGST Co., Ltd.
Date of establishment
2008/4/1
Representative Director
Yasumitsu Kojika
BUSINESS

Commercial IoT service provider business
Development of artificial intelligence platform
Development of cloud system
Development of IoT device
Development of payment system
Development of various applications
Local 5G communication business
International trading

Amount of capital
50 million yen
Head office
23F, KAMIYACHO TRUST TOWER,
4-1-1 Toranomon, Minato-ku, Tokyo, Japan
TEL 

03-4500-9880

 / 

FAX 03-6457-0505

SMART BASE TOKYO
3-18-13 Tatsumi, Koto-ku, Tokyo, Japan
Number of employees
30
Other related company
90
Main bank
MUFG Bank, LTD.  ; SUMITOMO MITSUI BANKING CORPORATION
Business Partner

PUDU TECHNOLOGY.Co Ltd
UBTECH Robotics Corp
Alibaba Group
Tencent Group
Sense Time Group
Guardforce Ai Co.Ltd
INSPUR Group
SWIFTPASS Group
SGST Business Strengths
We are the first system integrator to work on the world's most advanced solutions in the IoT and Ai fields, providing efficient solutions to B2B Japanese customers.
We provide an agile development technique based on rapid prototyping.

1. Product proposal
Service Robots: "BellaBot" "KettyBot"
Guidance Robot
Sterilization robot:

Ultraviolet irradiation robot: "ADIBOT-S / manual type" "ADIBOT-A / self-propelled type"
Photocatalytic sterilization robot
2. Problem-solving proposal
Vision Technology

Re-ID: Customer traffic line Analysis Solution
Smart locker: Face recognition system compatible
Image authentication Ai Self-Registration, Face recognition unmanned store

Smart Devices

Cloud Puvio Type Ai Electronic Blackboard, "Puvio" products, etc
Company Philosophy
Value Creation

We will constantly create the value of human resources, the value of products, and the value of companies.

Dreams come true

We strongly believe that, "Dreams are not what you see, but what you realize." And we will continue to strive to realize the dreams of our employees, our partners, and SGST.

Contribution to the society

We will continue to make contribution to the development of Japan, Asia, and the world.
ACCESS
Head office
23F, KAMIYACHO TRUST TOWER,
4-1-1 Toranomon, Minato-ku, Tokyo, Japan
SMART BASE TOKYO
3-18-13 Tatsumi, Koto-ku, Tokyo, Japan